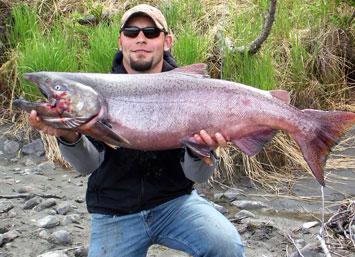 Details.
Drift fishing on the Kasilof is a wonderful experience for both the probability of fishing success and the wildlife viewing opportunity. It is truly the Kenai Peninsula's hidden gem—help keep the secret!
Fishing on the Kasilof River offers the best chance to hook into King Salmon on the entire Kenai Peninsula. The Kasilof River unlike the Kenai offer fishing opportunity every day even when runs are not very strong. Bait is also permitted on the Kasilof furthering your chance to land a fish during your trip.
In addition to the world class fishing the Kasilof does not allow power boats so the drift allows for a peaceful quiet fishing experience and the excellent chance to see wildlife. Another bonus for the whole family is the abundant wildlife—it isn't uncommon for us to drift by moose calves, beavers, eagles and other critters along the float.
The (salmon) Run Down:
There are two distinct runs of King Salmon that enter the Kasilof River. The first run begins in mid-May and wraps up in June and the second run begins in July. On the last day in July fishing closes for King Salmon. The first run of King Salmon on the Kasilof River produces a great number of fish. This run is a mix of hatchery and wild Kings returning to the river. A clipped adipose fin identifies the hatchery fish from the wild one. Typically we see a 60/40 catch rate of wild/hatchery. During this first run the size of the fish varies from 15-40lbs. The limit for King salmon on the Kasilof is 2 fish per day in May and June. Everyday 2 hatchery fish may be kept or 1 wild fish and 1 hatchery fish can be kept on Tuesdays, Thursdays and Saturdays in May and June. Second run fish start entering the river in late June and continue throughout July. This run is comprised only of wild Kings. The fish in the July run are typically much larger, average sizes range between 25-50lbs and catching a 60 pounder is not uncommon. The keep limit in July is 1 King each day. Once a King has been harvested, fishermen are still allowed to catch and release for the remainder of their trip.
Our trips leave very early in the morning to ensure better chances at catching King Salmon and to allow for more remote fishing. Throughout the summer fishing for Kings on the Kasilof can become very crowded and leaving the boat launch is the solution. "Early Birds get the Kings!"