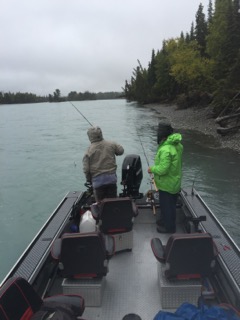 WILLIE PREDATOR EXPERINCE.
New to the Chugach Backcountry Fishing fleet is our 20' Willie Predator. Having a power boat for the Kenai River and Cook Inlet will now allow our clients to fish more effectively on the river and the salt water. When the rivers are slow for fishing in April and May the Cook Inlet waters start showing life with feeder King Salmon and Halibut fishing right off the beaches. Early season fishing off the beaches of Anchor Point and Deep Creek is very productive. There is always somewhere good to fish and Chugach Backcountry Fishing can do it all any time of the year.
One of the greatest benefits of having a power boat on the Kenai River is having the ability to motor upriver in search of better water. Once we find the fish we can stay on top of them and fish the best spots over and over.
This boat is equipped with four comfortable, HEATED, seats for those cold mornings and wet days. A 20'x72" deck allows for ample room for fighting fish and walking around to stretch the legs every now and again. This is the best fishing platform on the Kenai River. It makes fishing for each and every species easier and more effective.

FULL DAY POWER BOAT TRIPS (8hrs).
Pricing
$275Per Person Full-Day
$225Per Person Half-Day
$1,000Exclusive Boat (1-3 people)
Reserve Now
Maximum is 4 people in July.
All gear is provided by Corey. Drinks and snacks will be available on the boat. Only the essentials will the clients need to bring. Camera, light rain gear, appropriate clothing, fishing license, lunch.