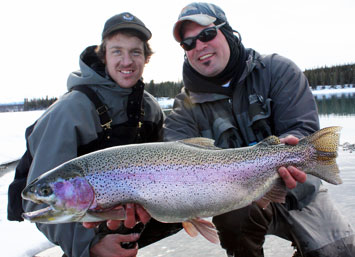 Details.
Kenai River
Prime fishing for Rainbow Trout on the Kenai River occurs during the spawning of the Salmon species throughout the entire river system. Salmon begin dropping their eggs in the end of July and continue through November. Peak fishing for Rainbows on the Kenai is in August and September but fishes well into November. With Chugach Backcountry 200-fish-per boat days are not uncommon during the egg drop. The Kenai River push anglers to their limits with rainbows over 30"!!
Chugach Backcountry Guides and clients fish the Kenai for trout every month of the year, including winter. Winter fly-fishing on the Kenai can be fantastic, weather permitting. Many big main stem rainbows winter in the Kenai there. Contact Chugach's owner, Corey, ANY time of the year for best available dates to fish the peak trout season.
Small Streams
At Chugach Backcountry Fishing this is our signature trip. We offer hike-ins on small streams specifically for the fisherman seeking a more unique, scenic, and intimate Alaskan fishing experience.
Accessing smaller fishing streams is a lot of fun and offers that unique "Alaskan" experience. Although the fish may not amass the same sizes as the Kenai River they make up for their lack of stature in numbers and uniqueness.The smaller streams along the peninsula are all tributaries of the Kenai River and home spawning to Sockeye Salmon. Thanks to an abundance of Sockeye eggs and flesh in the water, fishing for hungry Rainbow Trout and Dolly Varden is top-notch. The smaller streams on the Kenai Peninsula are less populated with fisherman and easily accessible for fishing more than one stream each day. Trips start times vary throughout the season to maximize daylight. Clients will be provided waders, fishing gear and transportation to and from each stream.